In October 2018, Dr. Naoki Fujimura, a cardiovascular surgeon at Tokyo Saiseikai Central Hospital, in Japan, performed a thoracic endovascular aortic repair (TEVAR) in a patient with an aneurysm of the descending thoracic aorta, using Cook's low-profile Zenith Alpha Thoracic Endovascular stent. Which in itself is not particularly noteworthy. Dr. Fujimura has performed many TEVAR procedures.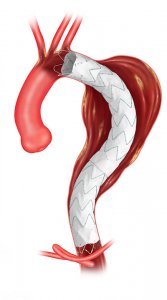 What is remarkable is that, in this instance, the patient was a 106-year-old woman. Normally, a patient of that age would not receive a stent graft because of the high risk of femoral artery injury that can be caused by inserting the sheath into the vessel, which typically has a smaller diameter in small, older patients. But the centenarian patient was remarkably healthy for her age: she lived independently, got around with the assistance of a walker, and her mind was sharp, with no signs of dementia.
Still, the procedure was only possible due to the low-profile of the Zenith Alpha Thoracic stent. Another device with a higher profile would have presented too high of a risk for a patient with such small access vessels. But the size of the vessels was not an issue for the Cook device. The procedure went well, and the patient recovered without any complications.
"I think Dr. Fujimura is quite happy about the treatment result," said Reiko Shoda  in the Vascular Division at Cook Japan. "The low-profile of the Alpha Thoracic stent made it possible for this elderly patient to get the treatment she needed to resume her remarkable life."
Learn more about the Zenith Alpha Thoracic Endovascular Stent.
AI-D49273-EN